In 2017, California-based aviation startup ZeroAvia announced ambitious plans to drastically change the aviation industry worldwide by developing realistic alternatives to traditional jet fuel and combustion engines.
Although air travel is still the most efficient method to move people and cargo over great distances, the aviation industry also contributes to high levels of carbon emissions.
ZeroAvia is seeking a variety of sustainable options to reduce this environmental impact, including hydrogen-cell battery technology.
In the process, it has found funding, support, encouragement, and opportunities to collaborate from private companies that can benefit from more sustainable practices, such as Amazon and Shell. Interest has also been shown from various governments and governmental organizations and associations.
Already, progress is being made in this goal to reduce the industry's carbon emissions. Earlier this year, ZeroAvia began testing an airplane powered by the HyFlyer, a hydrogen-electric powertrain. The plane, a 19-seat Dornier 228, has been making regular flights from Cotswold Airport in the United Kingdom, part of a public-private collaboration between the U.K. and several aviation businesses, plus engineering firms and aviation businesses.
Company officials hope to have these powertrains available for purchase by 2024 and installed aboard planes a year later. Officials have estimated the zero-emission battery can reduce overall service costs by 50% due to being able to save more than 75% in maintenance and fuel costs.
This current model of powertrain is designed to provide power for up to 500 miles on a nine- to 19-passenger plane and can be retrofitted into existing planes rather than requiring a new plane.
ZeroAvia officials are also developing a more powerful model for larger planes that will also allow them to travel longer distances. It has also received experimental certificates for two prototype aircraft.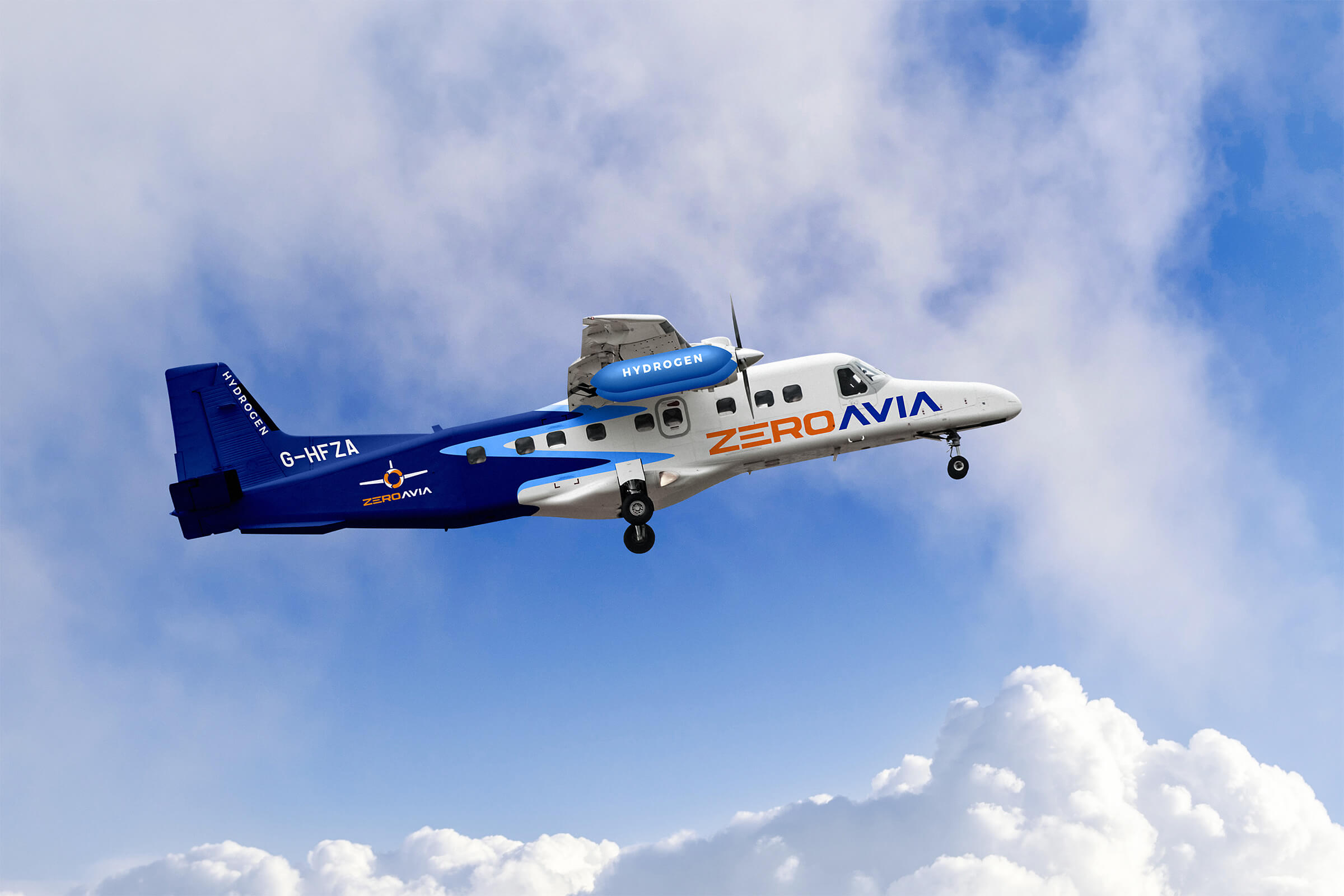 New Partnerships
In early November, ZeroAvia announced an agreement with ASL Aviation Holdings, an aviation service company that offers cargo and passenger service in Europe, Asia, and Africa. The partnership will permit ZeroAvia to convert 10 of its ATR72 planes away from its current combustion engines to its zero-emission hydrogen-electric system.
ASL Airlines Ireland will begin the partnership by offering a retired ATR72F freight aircraft to be used as a way to demonstrate the technology. Once testing and development are complete with this aircraft, more planes in the carrier's freight fleet will be scheduled to be converted to the hydrogen-electric powertrain.
The goal is to have the new propulsion system aboard its planes in place by 2026.
Both ZeroAvia and ASL Aviation Holdings are part of the ASL CargoVision, which is an initiative seeking improvements in the overall air cargo industry. It was formed in 2020 to explore new technologies as well as encourage sustainable efforts, especially on the cargo side. The CargoVision membership includes several new and existing aviation companies.
Airfreight providers can especially benefit since they often fly short distances rather than long hauls, but they still use plenty of fuel.
Being able to adapt the new powertrain in a plane or fleet of planes makes more sense fiscally than ordering new planes.
ASL officials said collaborating with ZeroAvia can be a smart step in its effort to reduce its overall carbon footprint. Looking for areas of environmental sustainability also doesn't diminish any of its services to its customers.
They also said they liked ZeroAvia's commitment to developing further efficiencies, so they were excited to be one of the early investors by existing commercial freight carriers.
The powertrain to be used in the ASL aircraft is the ZA2000 Powertrain, which provides 2-5 megawatts of power for planes that can seat between 40 and 90 passengers. It includes an electric motor powertrain and hydrogen fuel cell.
ZeroAvia Efforts
Along with collaborations between aviation companies like ASL Aviation Holdings, ZeroAvia continues to look for other forms of support, including private and public grants.
CEO Val Miftakhov, a licensed pilot, has been seeking sustainable solutions and funding for them for years.
The company is part of the United Nations Global Coalition for Sustainable Aviation, which has a goal of seeking better options of propulsion while reducing the entire aviation industry's carbon footprint. It also is a member of the International Civil Aviation Organization, which also looks for better solutions in all areas of the flight world, from infrastructure to technology to engine hardware.
The United Kingdom selected ZeroAvia for its "Green Fuel, Green Skies" initiative, which promotes sustainable research and new technology that can be used at U.K. airports, such as hydrogen or electric aircraft.
The company also recently received a grant from the U.K.'s Department for Transport's Zero Emission Flight Infrastructure to explore the possibilities of liquid hydrogen refueling at airports. Advances in this area can potentially allow planes to fly greater distances with fewer stops for recharging instead of refueling.
ZeroAvia already had been performing research and development into these options, including production of refueling sources as well as support at the airport level.
Val Miftakhov has also had discussions with NASA, which is also seeking alternatives to rocket engines, especially for long spaceflight. He was a guest at the Hydrogen Americas Summit as well, where aviation projects of different scales were discussed.
Thank you @h2_view for sharing our collaboration with @AlaskaAir to develop a #hydrogenpowertrain system that will be incorporated into a 76-seat passenger plane. Read more here! #SustainableTravel #hydrogenfuelcell https://t.co/COr63r9avL

— ZeroAvia (@ZeroAvia) October 31, 2021